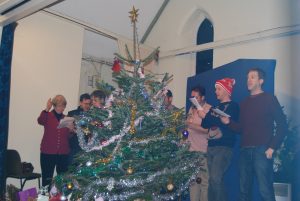 It was maybe the best Christmas ever, certainly, if I don't count the curry we had a few years ago when renting a cottage for the week, it was the best Christmas dinner I have had for a long time.
Don't get me wrong I don't mind Turkey and trimmings but I do feel it is overrated these days and as our pallets become more adventurous there are other tastes to celebrate.  I attended 6 Christmas meals through work, the advantage or by the end disadvantage, of working alone but being included in networking, and client get togethers.  I pointedly ordered anything but turkey from the menus and had some very wonderful meals.
Sadly, a long time ago now I lost my Christmas spirit and am not quite sure how or why or even if I really want it back.
The Christmases of my childhood were magical. The tree, locally sourced and dug still smelling of pine, was put up in the hallway. So tall it climbed, up through the stairwell to reach the uppermost floors where the star shone out from its tip. Twinkling lights illuminating the shadowy stairs as we made our way up to bed.
No matter how poor we were, there were presents for all, many homemade or shared with siblings but they arrived under the tree each Christmas morning.  I had spent weeks if not months saving pennies to buy materials for making odd shaped toys for the children, cringe worthy  paper poetry books, thankfully long lost for the adults.  The annual battle to fit the turkey in the oven, my uncle always brought this as part of his contribution along with all kinds of alcoholic bottles.  Being single he challenged himself to donate the biggest bird he could find. There were chocolates and if you were clever no real constraints on how many you could eat. It was one of the few times snacks appeared in our household, nuts, olives, anchovies and occasionally crisps, oh and those tiny silverkin onions, that I don't see today.
We ventured out once over the festivities to go to Midnight or more often early morning mass leaving my father to cook the Christmas breakfast for our return,  getting up was never a problem for us in those days.    People came to us for the annual Boxing Day drinks party and as teenagers we experimented with many a concoction of what now seems; rather mild cocktails mixed surreptitiously and drunk secretly.  For a few days, I, who used helping as an escape to academia found willing sibling hands at every turn keen to wash, dry, cook or lay up just to move things on.
Things changed.  I stopped sending Christmas cards some years ago, when  I could not find religious ones and the cost of posting exceeded my meagre Christmas spends, but even then I managed to budget for a small donation to a deserving charity.  This year it is the air ambulance's turn; being involved in rugby I have seen this arrive at the club a few times over the years, not to mention it attending accidents involving friends children.
I see the Christmas lists, watch the adverts and note the wishes of children wanting the latest expensive gadget or must have. I can remember asking the wider family if they have any ideas for presents and being sent a list of items from the Argos catalogue, cost, colour page all included.  All overpriced for what I could afford to spend on my own children let alone those of someone else.   As they grow their tastes and expectations have increased and there is no way I can equal, so I don't; not anymore.  I send money, tokens or vouchers to be put towards whatever they choose.  With a new generation of babies starting to appear on the wider scene buying baby toys brings back a bit of that lost magic.
Christmastime to me was once the season of goodwill.  That meant the enjoyment came from the giving and in my own quiet rebellious way I am now doing just that.
I am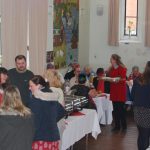 involved in the Charity Christmas meal.  I have spent about 6 weeks attending meetings and asking the local community for help with, the cooking, serving out, the venue, the food, and presents.  People have been so generous not only with their time but their money.
I was told before Christmas I was being selfish doing this.
"Why?" was my astonished answer to that.
Because I was stealing my children's Christmas and they would never know the fun and excitement of a proper Christmas like the ones we used to do when they were tiny.
Mini Son has to take part in an award for school part of which involves 15 hours of community service in some form or another.  Spacing it out over the past few weeks he has attended the meetings with me and was there on Christmas Eve helping decorate the hall and tree.  After opening his very full stocking from Father Christmas and a hearty breakfast he joined me at the hall and worked all day as a fantastic runner, washer upper, and now is having a well-earned rest playing with all his new toys and gadgets while his classmates try and find things to help in the community.   This is the second year he has helped and he is already talking about next year.
No 1 Son who now at 21 may come and go as he pleases, for the third year in a row arrived shortly before the guests and spent a few hours chatting to them, helping them to get food, help them open their presents and generally flirting with old ladies who absolutely loved him.    There is no pressure for him to be there and if he wishes to join us next year he is so welcome.  My suspicion is he will.
Middle Son, I feel sorriest for.  Three years ago he wanted to be involved and spent the whole day helping, having made the 'still talked about today' shortbread at his garden centre work for guests.   Last year he was angry that having to work all day at the pub where he cooked prevented him being involved at all. This year it turns out he had to work again, a downside of being a chef.  However he and his team offered to cook the turkey, roast potatoes, parsnips, carrots, sprouts and gallons of gravy.    They even brought it to us before getting on with their own service.   He was probably more involved than the rest of us.  I managed by pure accident to run into him as I loaded my car just as he walked back to his home where his friends were waiting , so wished him a happy Christmas before I came home. The briefest of encounters but enough to allay any worries about him being lonely. He was joining us on Boxing Day.
I arrived home, my mouth watered as the rich aroma of Italian enveloped me.  Sexy, Sporty Dad handed me a large glass of wine and a bowl of steaming lasagne, garlic bread and salad on the side.  He had been on a long guilt free cycle ride before arriving back with time to create the meal, yet another thing to add to his repertoire of cooking successes.  Every mouthful tasted succulent, the pasta cooked to challenge our local Italian restaurant and the cheese sauce dripped through every forkful bringing the tastebuds to a level I rarely reach these days.  Maybe because I had no part in it, maybe because it was not the long laborious roast with heavy vegetables or just maybe it was the wine that accompanied it but it was one of the best Christmas dinners I have had.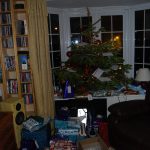 We sat down in front of Doctor Who, Mini Son handed out presents, of which there were still plenty and nobody felt hard done by.  The TV played in the background, the chocolates disappeared surprisingly quickly, a couple more glasses of wine and liqueurs were consumed.  It was warm, very festive and the day resonated with goodwill.
I think I may have found my Christmas spirit; underneath all that commercialism people want to help, they are happy to give generously. Maybe they just need to know what is happening. Friends who've known what I do, asked to be part of it this year, others who are tied up with family helped on the other days.   What each took away is a sense of inner peace and contentment that all the presents, food and drink can never quite match.
I may be selfish in that I held out for what I felt was right; but I know that there are people in the local community who had a better Christmas because of my selfishness and I do not feel my own children suffered in any way.  Maybe they benefited in some small way by contributing.
Hope you all had a wonderful Christmas and that the New Year brings health, happiness and helpfulness.
Tiggy