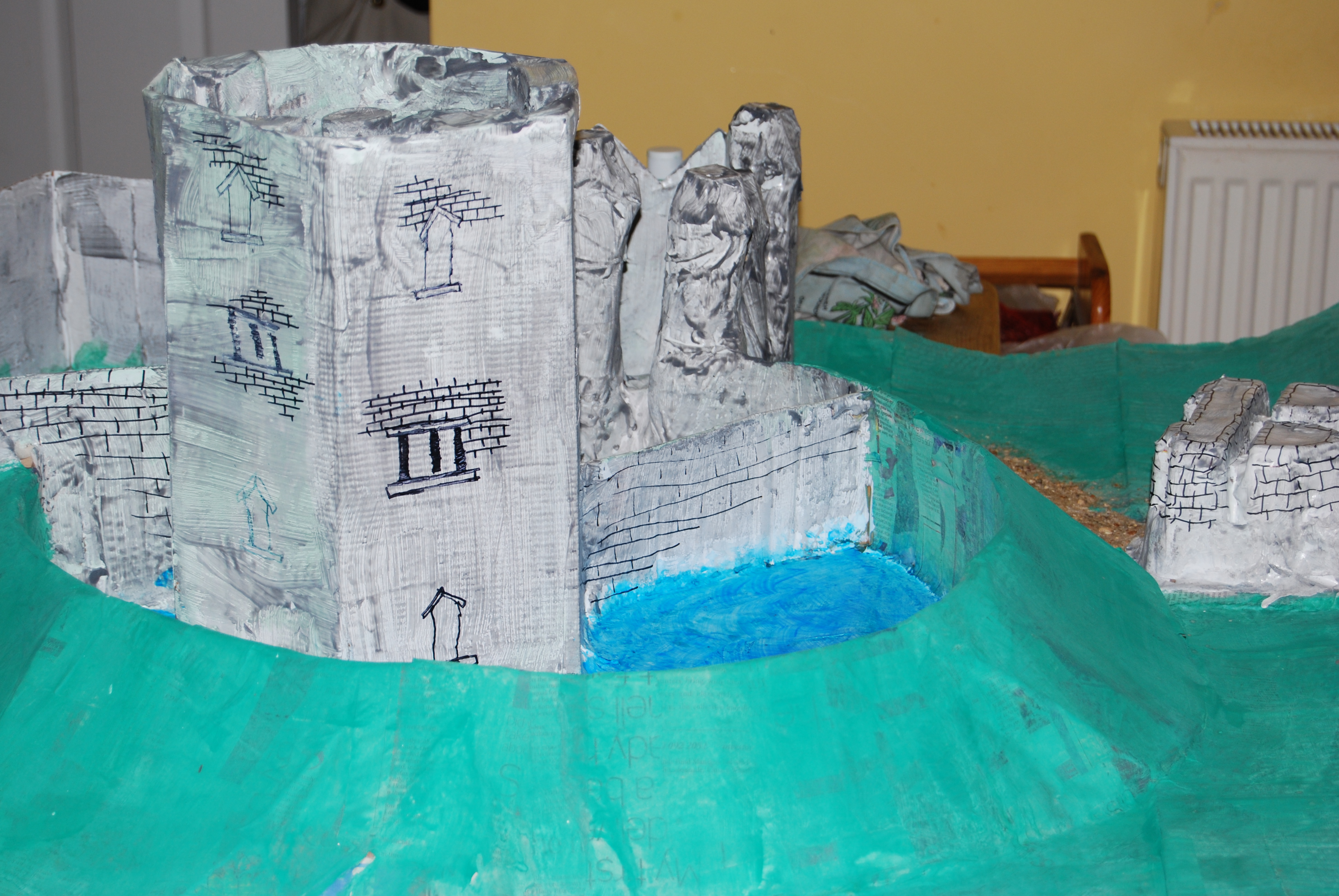 As anyone with a year 7 child will know or anyone with older children who have been through year 7 at the local school, the history teachers like to challenge the parents of their new intake.
It was the turn of Mini Son and being the third we should have this off to perfection now.      Over the Christmas holidays as if we did not have other things to be getting on with Min Son was set the task of creating a castle.
Having created two previous versions which had been greeted with good marks and pleasant comments from the teachers, Sexy Sporty Dad wanted to change tack.    He and Mini Son plotted together to build the most wonderful gingerbread castle.   They spent time assessing, quantifying and evaluating the task ahead.  I found them looking through my recipe books, researching on the internet and discussing the project ahead.
Finally with a week to go and all the discussions, research and searches complete they came to the conclusion as neither knew how to cook gingerbread it might be better to go back to tried and tested papier-mâché method.
With older siblings to impress, measure up to and outdo, a glut of cardboard from Christmas and some serious parental patience it began.   Glue, scissors, paper and card strewn all over the kitchen floor as the creation manifested itself, rising from the ground a lot quicker than the original castle being copied.   The following day the papier-mâché was applied having been on a reconnaissance recovery route march to retrieve substitute newspapers. We had thoughtfully taken all ours to the tip as they built their own fortress round us.
For safety reasons we moved the construction site to the kitchen table where cats could not play with it so easily, it could not be kicked or stood on and we had somewhere to walk.  The base hung over the side of the table and the monument took up all my preparation space relegating me to the already overcrowded cupboard tops.    The castle took shape and developed as the papier-mâché dried out and it only needed painting and bringing to life.
I was duly informed that as I had not made it I would need to help paint it.    I had nothing to do this week, I who was still working had to realise my work was not as important as this, looking after the children during their holidays was irrelevant in comparison, it was my turn; hadn't I got out of the other two.   Well actually no but we probably only remember the bits we did and not all the extra put in when no-one else was around.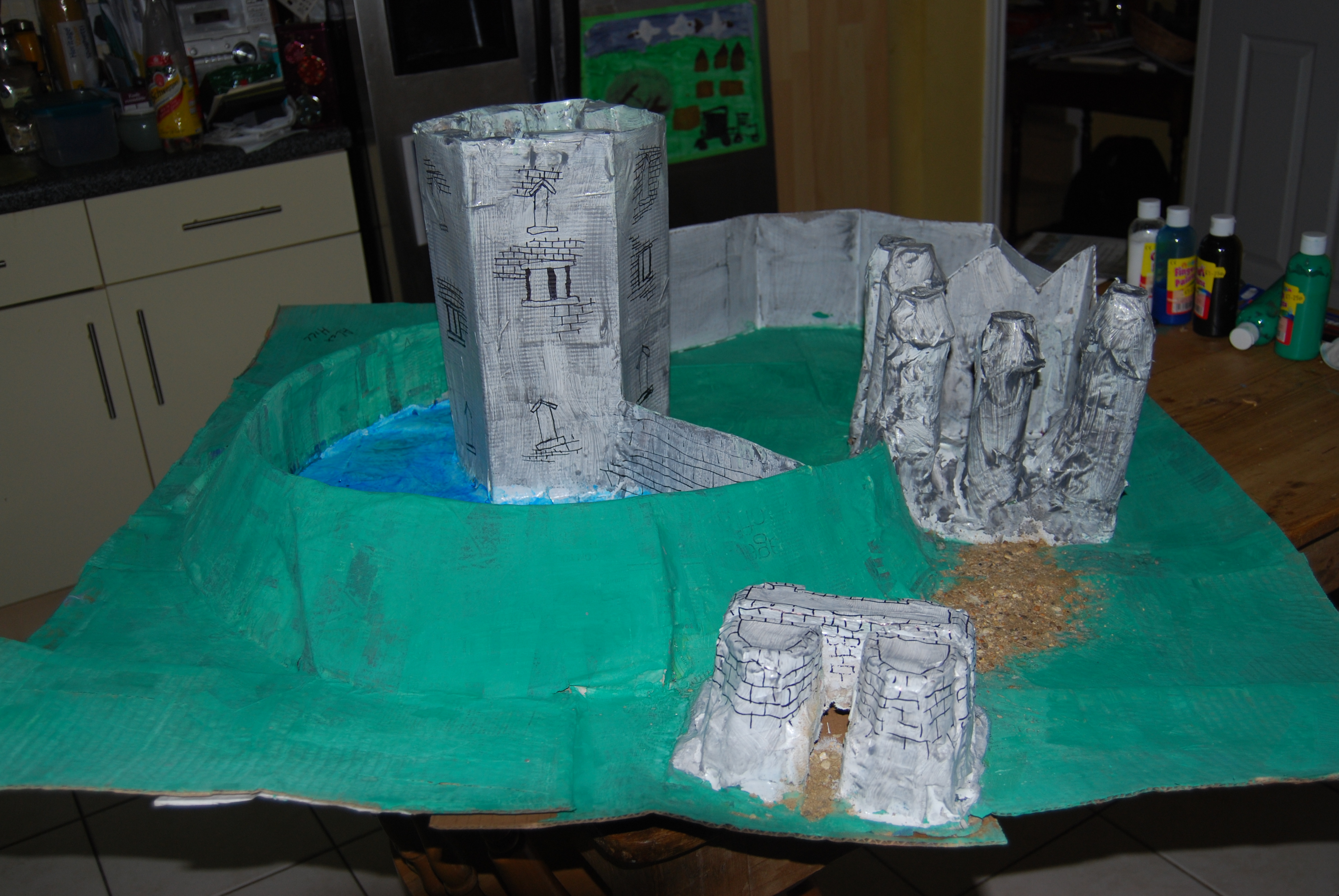 Amazingly it was painted in short bursts by Mini Son who was by now thoroughly bored with the whole project and desperate to play with his new toys and see his friends.  I imagine our wonderful kitchen pixie did the rest unseen by the rest of the world; each day as I passed by a new coat was added to the newly dried structure giving it more resemblance to the finished concept.  I am sure I will get no acknowledgment of the wonderful support and help given to our son.
The castle was finished; it stood proud and indefensible on my kitchen table.  The school expected it in as soon as they went back to school.   Suddenly a new challenge was upon us.  The weather has not been kind and these few mornings it has been lashing down.   Just the idea of the wet soggy mess that would be if he walked to school left me horror struck.  Not to mention the fact it actually took two people to carry the monster.  How were we ever going to get it to school?
I did relent and agree to take them into school with it, but it would not fit in my car.  It was left to Sexy Sporty Dad to drive them in, No 1 Son kindly helped to load it and
to take it to the classroom for him after they had battled to negotiate passing through doors.  It had to be gently turned on its side and edged through as the tower was delicate and tall.
With delight Mini Son informed us that the teacher was pleased and he had received two credits for his and our efforts.  They were sure it was the biggest castle they had ever received in and stood out compared to all the gingerbread versions that had all arrived.
I am thankful that little task is complete but wonder how much marital strife it will have caused in other families where emotions are running high at this time of year anyway.   A plea to year 7 history teachers:  "How about a beautiful picture with a half page description taken from the internet in the future"!
Mini Son came home last night; the teachers need the castles removed as they take up so much room in the history department.
Tiggy
Have a look at what I am up to with my food blog at  https://tiggy-tea.blogspot.co.uk/