People keep pets for many different reasons: for company, to breed, as working pets or in my case to help out.   The kittens that I have now acquired are the biggest time wasters that I find in my daily routine.  A routine, already full to bursting and does not require the dippy distractions that these miniature maniacs display.    The kittens now 7 weeks old are most certainly developing their own personalities.
Zeus is the sandy brown one who despite being smaller than the rest is nosier, noisier and naughtier than all the others put together.   He is the instigator of many of the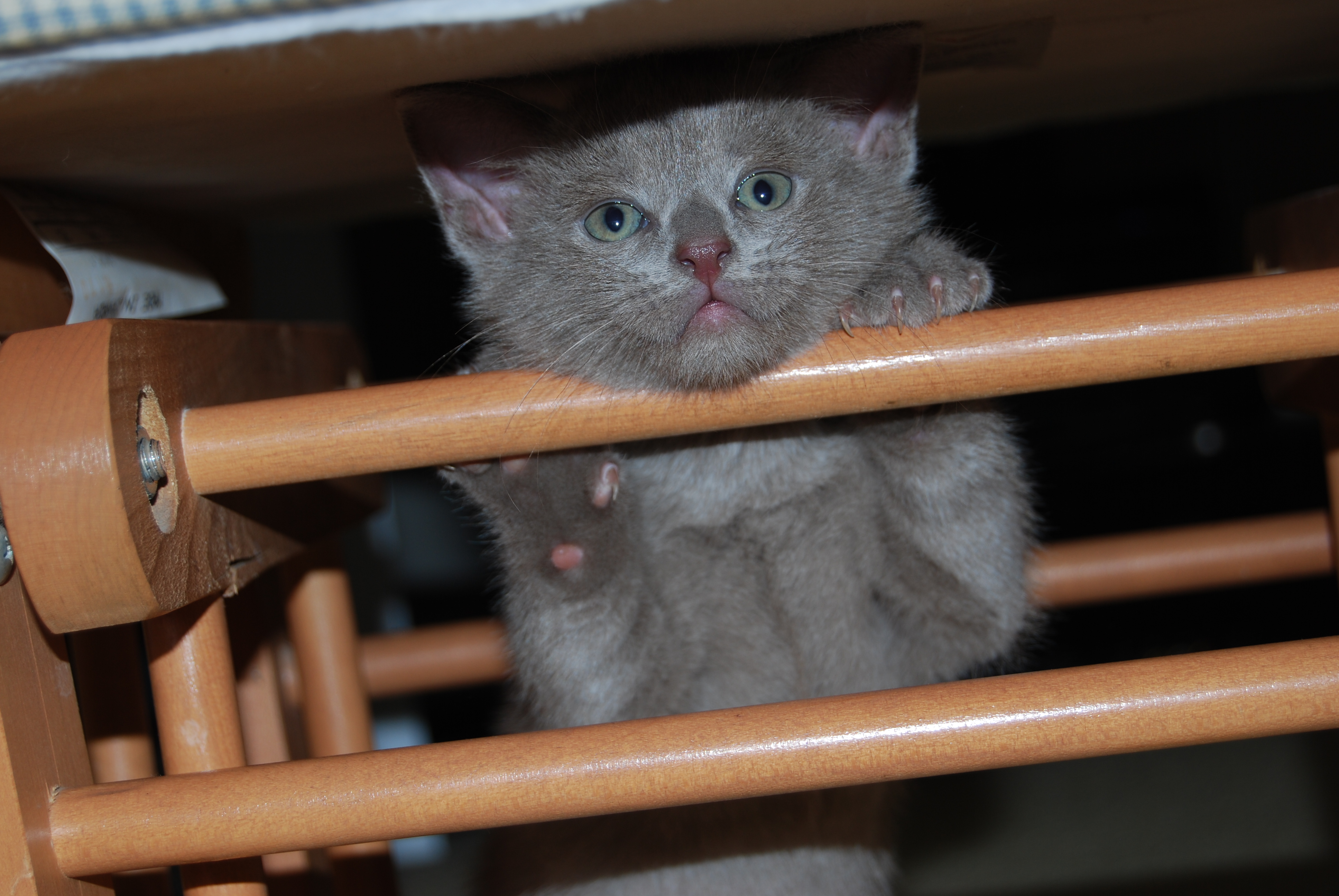 sibling battles that take place.  It was him that ventured to test out the food his mother was eating and encouraged his brothers to do the same.   He learnt to climb the stairs struggling to reach the top and luckily for him his claws could catch the carpet and he could pull himself up. Then he learnt to fall down the stairs using his claws to break the fall.  He does not like his tail as it bobs up and down independently and chases him round the house, he then bravely stops to face the offending tail and then chases it turning round and round until he is so dizzy he falls spectacularly over or off wherever he has stopped.
Sparta is grey in colour with unusual striping down his back.   He is more aloof than his siblings and learns quicker than the others what hurts when you run into it.   He will run and play and wobble more than the rest and his head still bobs Churchill like (the insurance dog not the politician).  No 1 Son wants to mount him on the back shelf of the car to bobble at people.    He like the rest of them has found his speed although the balance is not quite perfected and he falls over as he runs.
Obama and Nelson are both black kittens with Nelson having a tiny smudge of grey (white) hair under his chin.  Mini Son instantly knows them apart,
I have to catch them which is proving more and more impossible, before I can upturn and check the underneath.    They play well together and can often be seen and heard thundering around chasing each other, stopping suddenly at the top of the stairs.  The chaser launches, unaware of the dangerous precipice and they both tumble loudly down in a tangle of jaws, paws and claws. These two egged on by each other are leading the quest to claw their way up my curtains without falling off.
Mum however is giving me the most headaches.   Busy writing in the early hours on my own I glanced out across the garden.   We seem to have had a string of strange cats at our door recently, waiting.  I have shooed them away and many I do not even recognise as being from round here.  As I tried to glean inspiration from the freshly mowed lawn and the late blossom on the tree I noticed a young black cat sneaking through the garden.  Another stranger!  This one turned and saw me, a spark of recognition in her eyes.  I knew Princess to be locked in her room with all her babies but did she have a twin I knew nothing about.
I moved quicker than her as I had less area to cover. I opened the downstairs cloakroom door just in time to see her climbing back in through the window like a naughty teenager.  The window which had always been left slightly ajar for the fresh air had been pushed open; the array of newly acquired cat essentials on the ledge now lay discarded or fallen. Having explained to her in no uncertain terms the dangers out there for a young teenage mother cat, who must not to do that again.  She looked insolently into my eyes and with typical teenage disdain walked away.
Woken in the early hours of the morning by a horrendous haunting hurt crying from just outside the house, I rushed to see which animal was now injured.   I was beaten to the door and nearly knocked down the stairs by the charging Princess crying to the creature beyond in a newly acquired guttural groan.  My concern changed to her as she cried and writhed in skin tingling irritation.  Rolling her uncomfortable body in un-relievable discomfort she moaned and meowed for many hours.
As soon as the shops were open on a bank-holiday Sunday I went to the local rural supplier to acquire flea tablets.   Although no evidence of the evil parasites she was rolling against anything to relieve the agony.  She wanted to lie on the cool tiles of the kitchen floor to help.  She liked being stroked but did not want the babies near her.   Fast acting, safe for babies and feeding mothers I bought the tablets administering one immediately to ease her pain.   For an hour she fussed and fidgeted, only content to be groomed roughly and not leave my side.  I rang the vet as a precaution and she advised that I seem to have done the right thing and she would call in a couple of hours.  Finally the cat calmed down and stopped her crying, she curled up in front of the window and lay soaking the sun's rays.  The vet called back and reassuringly I told her the cat was sleeping and all pain seemed to have eased.  I launched into the thankless task of where to de-flea the house first.
Minutes before I served our evening meal Princess as if on a timer woke up crying.  She rubbed herself against my leg causing potatoes to plummet over the kitchen floor.  She yowled as if she were walking on shards of piercing glass.  She slunk low to the ground unable even to lift her back legs as she forced her rear and tail into the air.   The babies came running to see their howling mother in such agony and tried to suckle the pain away.  Princess turned away aggressively and pushed them all away.  Her stomach full of milk maybe she had mastitis or the way her rear end was convulsing could it be urinary?    Laying her gently on a cold pack wrapped in a blanket the meal became fast food rather than leisurely repast. The glass of wine untouched adorned the table invitingly, as we realised a visit to the vet may be called for.
We called in neighbours and friends to try and work out what was ailing this poor creature.  Her crying now a moan, her whole back in painful spasms and then she tried to walk.  Her back legs were dragged with tail in air desperate to raise the underside of her body.  Yowling loud enough to wake the neighbourhood dead I rang the vet again and she agreed to see me straight away.  Princess struggled with the pain as we put her in the carry basket, all the way over she moaned and tried to escape the painful captivity I had enforced on her.
I prepared myself for the worse.  How was I going to tell my boys?  The owner who I am still in contact with?  The cat's protection league who had entrusted me to continue looking after her?   What was I going to do with 4 orphaned kittens for the next fortnight till they can go to homes of their own.   Driving swiftly but carefully over the bumps which seemed to give her a cataclysmic jolt of pain as I bumped over them, I reached the vets who were ready and waiting.
A miracle!
As I opened the travel cage and pulled the half dead cat from there; she leapt out of my arms to the floor and began pacing the room. No sign of pain, legs fully compliant with her body movements, spasms all spent, she appeared as fit as ever a cat could be, sleek, shiny and speedy.  She began crying as a wave of new exciting smells hit her.
"She's calling"
The vet informed me.   The next ten minutes taught me more about animal behaviour, in particular cats, in particular Siamese cats than weeks and years reading in a book or on the internet.  She was calling for a mate.   She was desperate to escape and get herself pregnant again. The tail in the air, the craving attention, and the guttural growl are all part of her flirting repertoire.  I learnt that Siamese cats are one of the most vocal and dramatic breed and she definitely has Siamese in her.
Relieved beyond the realms of believability, but angry as any parent of teenage girls I returned to the tense household to explain to my boys that rather than breathing her last she was displaying all the feminine wiles in order to catch herself another boy.   Boys beware, she is cat wailing!
"No chase there then" was Sexy Sporty Dad's words of wisdom to his male offspring.
Tiggy
Check out my cooking blog at Teatime Treats with Tiggy