I have had such a busy time of late. My writing, although still managing to squeeze it in before the world gets up, has been very prolific of late.   I am however, at the present time the sole judge of the quality of the words written, but most certainly I feel proud of the content of my literary achievements this year.
We (Sexy Sporty Dad and I) finished LEJOG in mid-September (Lands' End) and within a week we were off to Ypres to celebrate a very special centenary "the Battle of Loos", more of that later I hope.  We hit October at a fast run as we celebrated a significant birthday for Sexy Sporty Dad which entailed a surprise weekend with friends and family coming together to help him move through the barrier.
I then slowed momentarily as I gathered information and research for NANOWRIMO.
Never before had I been so determined and so organised.  I discovered there were no other local Nanos so decided to use my wonderful Swanwick friends and online Nanoers  to support my efforts.
It all started with a 'virtual kick off party' at midnight on 31 October, and even before I  got to bed in the early hours of Nov 1st I had  444 words under my belt.  Others at the virtual party did many more, but I felt I had shown my face and achieved my start, I retired to my bed and woke again in the early hours to resume.   I stayed with social media for the following 30 days to keep me going and gather encouragement in my quest.
Follow the story here:
October 31st
just to warn you all – about to go into hibernation! will be out of circulation for 30 days while I again take part in NANOWRIMO – https://nanowrimo.org/ write a novel in a month – the challenge is 1667 words per day, follow my progress on twitter @TiggyHayes or on facebook Tiggy Hayes
November 1st
great start to NANOWRIMO – over 2000 words already written. Today was easier as it was a day off – see how the rest of week pans out!
November 4th
Yeah – 8376 words 4 days. Suppose to be a journey but stuck in jail in Bodmin due to be hung tomorrow – could be a short story!
November 5th
11594 words by day 5. Flowing well but how to make him sound young vulnerable & scared without being plain stupid? He escaped hanging btw!
November 6th
2588 words this morning – on a roll now. but they are calling him by a different name – do we own up or run with it
November 8th
way on target with 19757 words done so far. lost the plot slightly yesterday so very staccato writing but just jumped from a burning window
hope he survives or the end of the book…..
November 9th
so going gets tough from now on. work commitments may lessen time available but well on NANOWRIMO target at the moment
November 10th
25000 half way..with 20 days to go – work is getting in the way. maybe I shoud give up work and go full time writing! and the bills???
November 11th
a restless night helped – no sleep so got up at 4 and wrote 2000 words – it is going to be a long day -work then meeting all evening
November 13th
slowing down – work getting busy only 1173 yesterday and 1845 today but hit the 30,000 words – will that sustain over my working weekend?
November 15th
33027 words -he smashed the lock realising moments later he could have picked it – so why did I teach him to pick locks in chapter 1?
November 16th
35185 words done – we are just escaping Bath where we were propositioned. feels odd to be set upon by a woman writing as a boy!
November 17th
so a good 2001 words – strange number – what do i know about iron smelting in 1749 nothing yet….. about to find out then i think
November 19th
over 40,000 words. Awkward moment as he jumps in a river to save boy (who'll end up his wife-Don't ask!) But he cant swim! What a meeting!
November 23rd
46,800 words 7 days left feeling confident despite recent dip … the relationship is still icy – need a bit of love or at least tolerationTop of Form
November 24th
finally at 47,600 words they've a good word to say to each other. Could be a short love story, with 6 days left to live happily ever after.
November 25th
50,007 words & now they are in love. The real adventure starts here for them & me.Thanks for the support, couldn't have done it without you.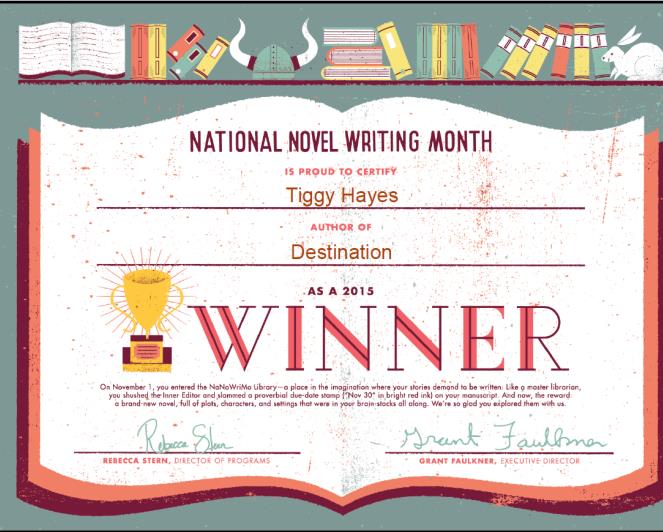 November 28th
54,589 words – both on the run now- overnight in Penrith – a name & sex change for her and he still running from cornish constabulary.
and still only in 1752!
November 30th
winner and surpassed all expectations – 60,000 words. now married but still on the run – what does Fort William have in store for them and will they ever reach John O'Groats, hope so a very special letter awaits them there
December 2nd
NANO may be over but we have to reach the destination. Loch Ness passed in 2 paragraphs. Back saving boys from water but still can't swim!
December 14th
NANO may have finished but story continued now at John o'Groates the letter has finally found them. Lets hope they live happy ever after
73,743 words, 144 pages and 44 days – Destination is going to sleep till the New Year.
I enjoyed my story, it changed dramatically from the one I had planned.  I worked well under the pressure of 1667 words a day and I managed to achieve 2000+ a day usually between 5 and 7 in the morning, which had no effect on my normal daily routine or work commitments.
Where some adventures came from I do not know, I would start with an idea and end with a completely different scenario which then had to be woven through my thoughts and writings.  The essence of the  story involved a long journey of learning, losing and loving. Lands' End to John O'Groats in the mid 1700's with my main protagonist a 13 year old boy;  all  out of my comfort zone writings but totally exhilarating.   There is a lot of work to do if ever I want to publish it; which people outside of NANOWRIMO don't really understand.
"if you have written 73,000 words why can you not just publish it?  Why put it away?"  Good questions but what about the real bane of my life;  the dreaded editing phase!  And then, the even worse rejection phase?
If Destination stands any chance of being published it needs to go into hibernation itself while I concentrate on Christmas and New Year and work on some of my older stories.  I will look at it again, fresh and with new eyes as I feel this one may have legs to pursue.
Pursue I must for two very good friends have during Nano month had their own books published;
A wonderful collection of short stories superb for a coffee break or waiting for a child moments which I have on my kindle and can reread time and again just to cheer me up and remind me where determination can take me.  Little Gems by Rae Argent
And here is a great little one for all adventure/detective lovers that is now out in paperback.  The Common Murders by S J Ridgeway
The other incredible book I have recommended this year again by a friend of mine is a must for all nature lovers and most definitely anyone who grew up loving "Winnie the Pooh" is The Natural World of Winnie the Pooh by Kathryn Aalto
I don't recommend these book just because they are my friends but because they are good and these are the contemporary ladies I aspire to be like and to write like.
Have the most wonderful Christmas
Tiggy