Is it me?   Or has the last year gone so fast I cannot catch my breath.
As far as writing is concerned I have done sporadic in depth sessions and certainly have a new Nano book "Destination" waiting for editing.  I managed to blog LEJOG as it happened, which was harder than I expected, and hope to fill in some other missing trips soon.   Swanwick was again a week full of inspiration, momentum and love which left me determined to find the time to produce more writing.
As the year turns to 2016 I need to think about my aims and plans for the coming 12 months.  Where do I want to be then.  My family have all grown older and wiser with No 1 Son now settled in an estate agency and playing his beloved rugby fortnightly (on his Saturday off).   Middle Son is working hard at his chefing where he is learning far too much fine dining and not enough serve it up to the family meals, the down side is the daily split shift that Sexy Sporty Dad and I have to deliver or collect him from.   Mini Son has found his voice and musical talent joining the Jazz band at school planning for a big trip later this year.   Sexy Sporty Dad still cycles but is training hard for a half marathon in the Spring and then planning a mountain to climb with school friends later on in the year.
It was such an odd December to end the year so to begin with I would like to take you back to a date in the summer.
It was an inevitable decision.   A 90th birthday is an awesome achievement in anyone's eyes and it was very fitting that we should make the effort.  Which is how, I came to take four sisters out to lunch.
My mother had spent months preparing and liaising with other members of the family over what to buy their sister on this prestigious occasion.   What does one get or need having reached the incredible age of 90?
There was a photo that all the family loved; it was a photo of the 7 siblings taken at my wedding some 21 years ago.   They were all dressed in their finery, all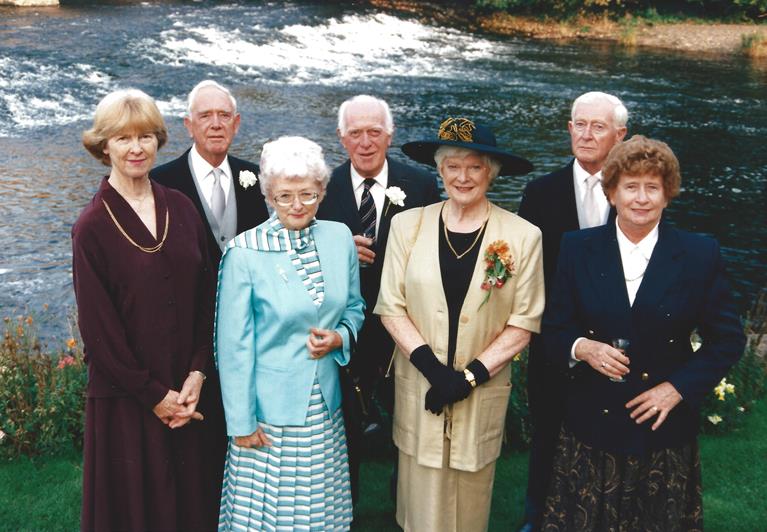 happy with smiles on their faces and it was a reminder of happier times as two of the brothers have since passed away. It was a great photo; the River Exe burbled and meandered its route to the sea as in the foreground, 7 happy smiling faces enjoy the celebrations.
Sexy Sporty Dad and I had been able to send copies of the photos to each of the siblings in the photo, the Christmas after our wedding and we know that all are still displayed prominently in their homes.
This summer my brother had been able to scan a copy of this photo and had it made into to a large canvas to go on a wall as a birthday gift.   The rest of her family were happy about the choice of picture but nobody would see the delight on the birthday girl's face as she opened it.
That is where I came in.  Did I have a choice?
We found ourselves on a Monday morning in July crossing Cranborne Chase, passing the village my parents had moved from when I was 4.  My mother had not been back since moving away.  The local town had changed beyond all her recognition, with the bridge at least being one of the few landmarks she remembered.
We gathered the other two little old ladies and took them to the pub where we met the fourth, kindly brought by my cousin whom I had not seen since I was about 14.  Unfortunately we had both aged far more than the group of sisters we had reunited.
We sat down; two blind, 4 deaf, one diabetic with a wooden leg and proceeded to order meals.  It became obvious that none of them eat particularly heavily now as any thing bigger than a starter was too much for them.
The conversation flowed as it always had done with this group of sisters, we sent non-alcoholic cheers to absent husbands and brothers who had not managed to keep up with stamina and determination of their wives or sisters.    The combined age around that table of 6 was 460 years.  One brother was absent; too poorly to travel the very long distance it would take for him to have joined us.  The picture was definitely well received and a triumph declared in the surprise and delivery of the present.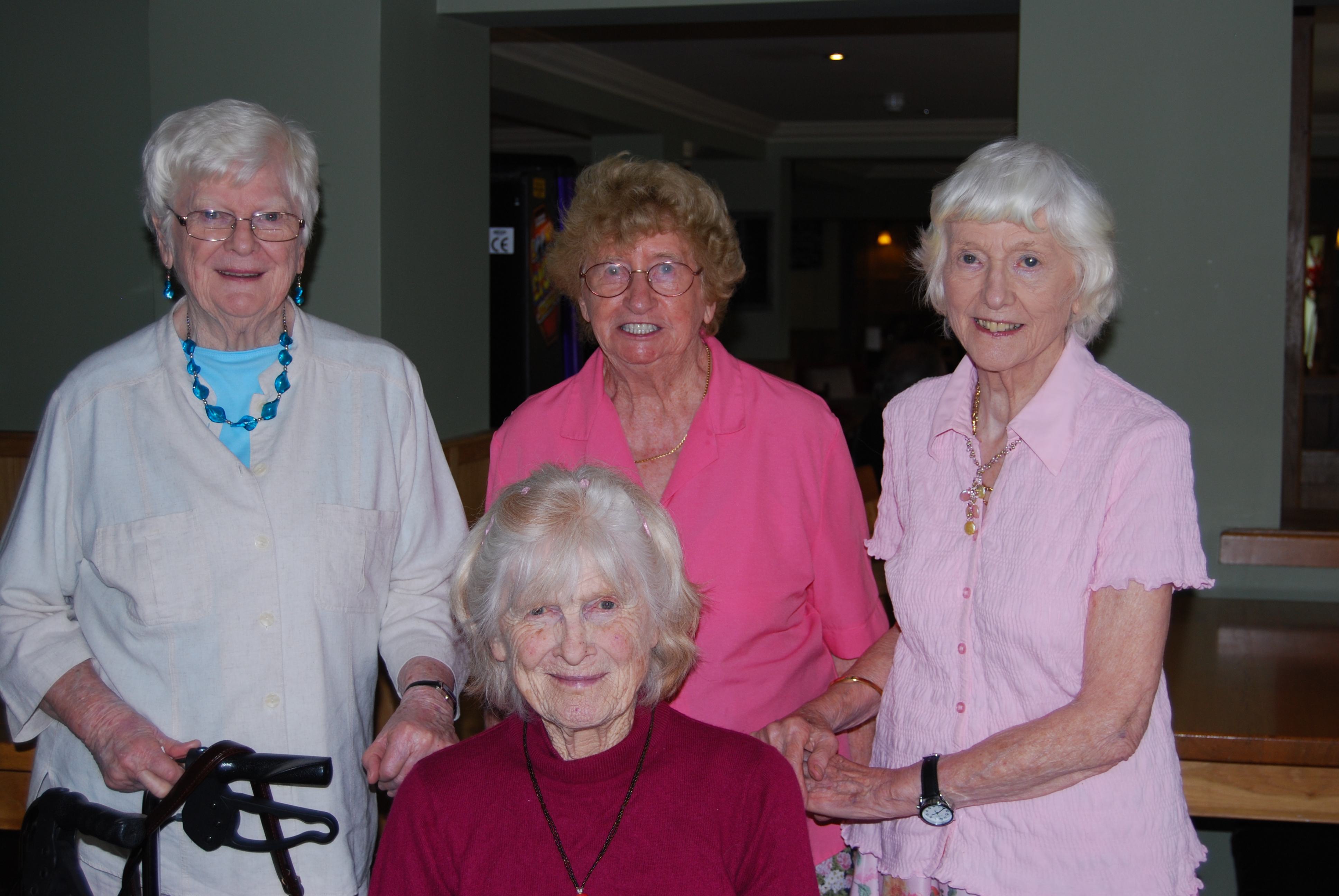 A question was asked and another answered as misunderstandings were rife.  A conversation started but left part way as they all forgot the topic and moved on to the next. Confusion rose around the modern card machine and payment.  Then, began the operation to manoeuvre them all back in to the cars, together with one wheel chair, a variety of sticks and several slow paced steps.
Maybe it was all over too quickly but this group of formidable sisters all needed to get back for their afternoon naps.  They would be sure to speak to each other very soon on the phone.  It amazes me how information is passed to each other through the medium of a telephone as none of them could hear each other properly around the dining table.
"and we must do this again soon" was our parting words.
We did do it again this past month of December but the occasion was not as happy.
One of the sisters has passed on and we all again came together at her funeral.    There were a lot of tears, there was a lot of laughter as we each recounted a special time this lady had meant to each of us.  There were more family members as cousins and the next generation of 2nd cousins met again with hugs and tears and promises of "let's not only meet at funerals and how can we get them all together again".
There being no possible weddings imminent we have vowed to put something in place.
I think the farewell would have delighted my aunt, the one who I am named after.  It was very apparent that she touched people in very personal ways and was an incredibly wonderful woman despite all the suffering she endured. "There are some people who come in to your lives and then leave but there are others who leave a footprint on your heart" this was a quote used to describe her; I hope I can live up to her memory.
I remember a time in the past when we lived not far from each other.  I worked for the same company as her but a different office. I would be given a lift across town to her office and she then drove me home.   One evening my lift and I were involved in a car crash resulting with me going through the windscreen of the car and ending up in the local hospital.    She was there waiting patiently for me after I was de-glassed, and bandaged more than most Egyptian mummies.  Gently they coaxed me back into her car and she drove me on that hurdle building journey home.
It was she who introduced me to the theatre, a love of which will never leave me. And it was she who so loved reading my blog.   Not owning a computer or able to access any kind of web link, she is the only one I would print my blog off for and send, in later years for others to read to her.
The day of the funeral made me realise that time is so short, our busy lives take time and effort from us; that we sometimes forget to make the arrangement that we truly meant to make.
Suddenly it is too late.
I have some wonderful ideas but I don't have the time to follow them through, then the opportunity has passed by. I reflect on all the resolutions I was going to achieve in 2015; some just simple ones that got left, and I am ashamed to say, are still floundering at the bottom of the "to do" pile.  I am such a advocate of  the expression "carpe diem" but maybe I should follow my own advice.
May this wonderful lady leave her legacy that we action our ideas, seize the moments and days and fulfil all our plans and opportunities.  This year will be even quicker than the last so don't just think about it, do it!  If ever I needed a resolution that will be it.
May I wish you all a very happy new year and let this one be full of opportunities and achievement….hopefully
Tiggy