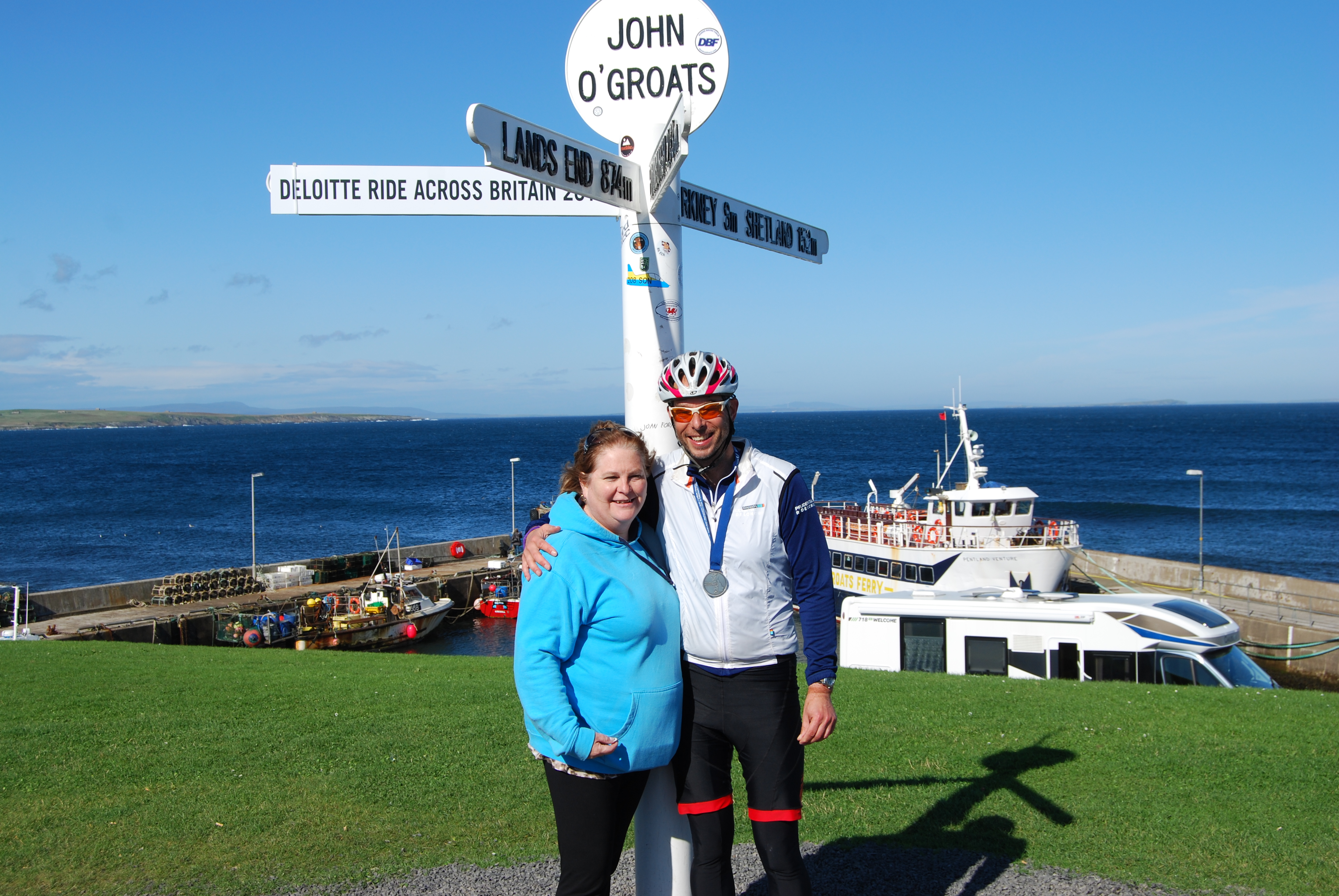 Well guess where I woke up?
Back in Fort William at the very beautiful Dalchreggan House.   The house looks out over the sea and again tactically I had re-opened the curtains after Sexy Sporty Dad had closed them last night.
Yes I did say Sexy Sporty Dad; he is with me this morning and as I glance from my bed  I can see my running clothes beside my overnight case laid out in readiness.
I could go and run along the coast with the breeze tagging gently at my hair.  I could breath in the fresh Scotish Air one more time leaving Sexy Sporty Dad to sleep in and wake up all alone, wondering where I had gone. Or I could sit here in my bed and watch the sun wake up the world; in particular the sea with the mountains in the background.  The windows are open and I can taste the salt in the air as the fresh sea breeze seeps into my room and tussles my already tousled hair.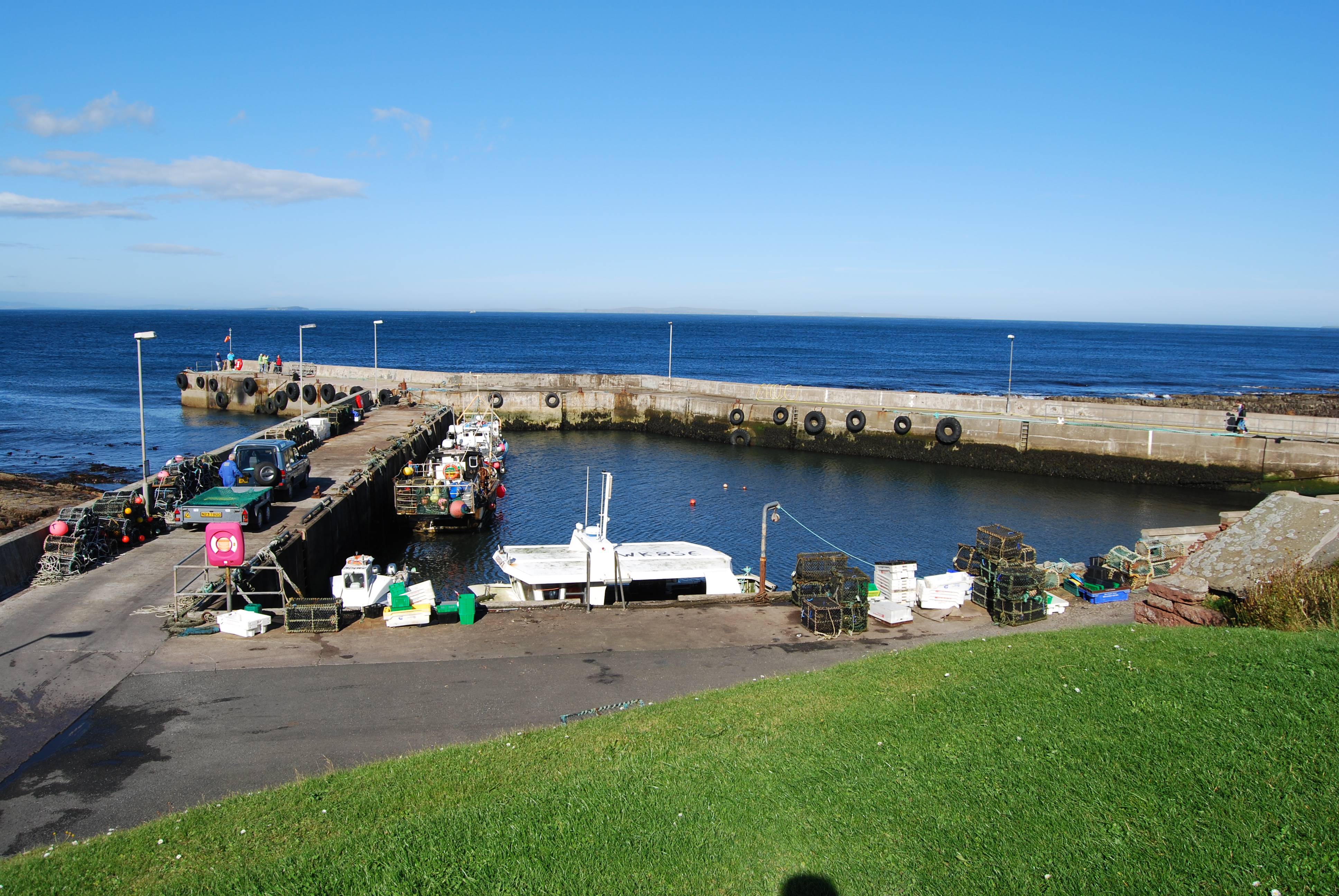 Well that is one question you will never know even if you read the book.
I am afraid yesterday was about one thing and one thing only; John O'Groats.    I checked out of the hotel and pretty much raced to John O'groats.  As I left the breakfast table I had received a text to tell me he had just arrived at Pit Stop 2 and only had 30 miles to go 'cold and windy, want it to end now'
As if I would allow him to stop now!  I told him I would meet him when he got to John O'Groats.  I was able to send some more good wishes from Facebook friends I had picked up that morning, plus another large dose of my own good luck wishes.
For the only time on this trip, it was important for me to get to the arrival venue first. I checked with the ever faithful Sat Nav, we had 86 miles about 1 ½ hours journey to reach the rendezvous.
I did it!
I drove all the way, 1145 miles from Lands End to John O'Groats with a map and a Sat Nav;  Thelma without her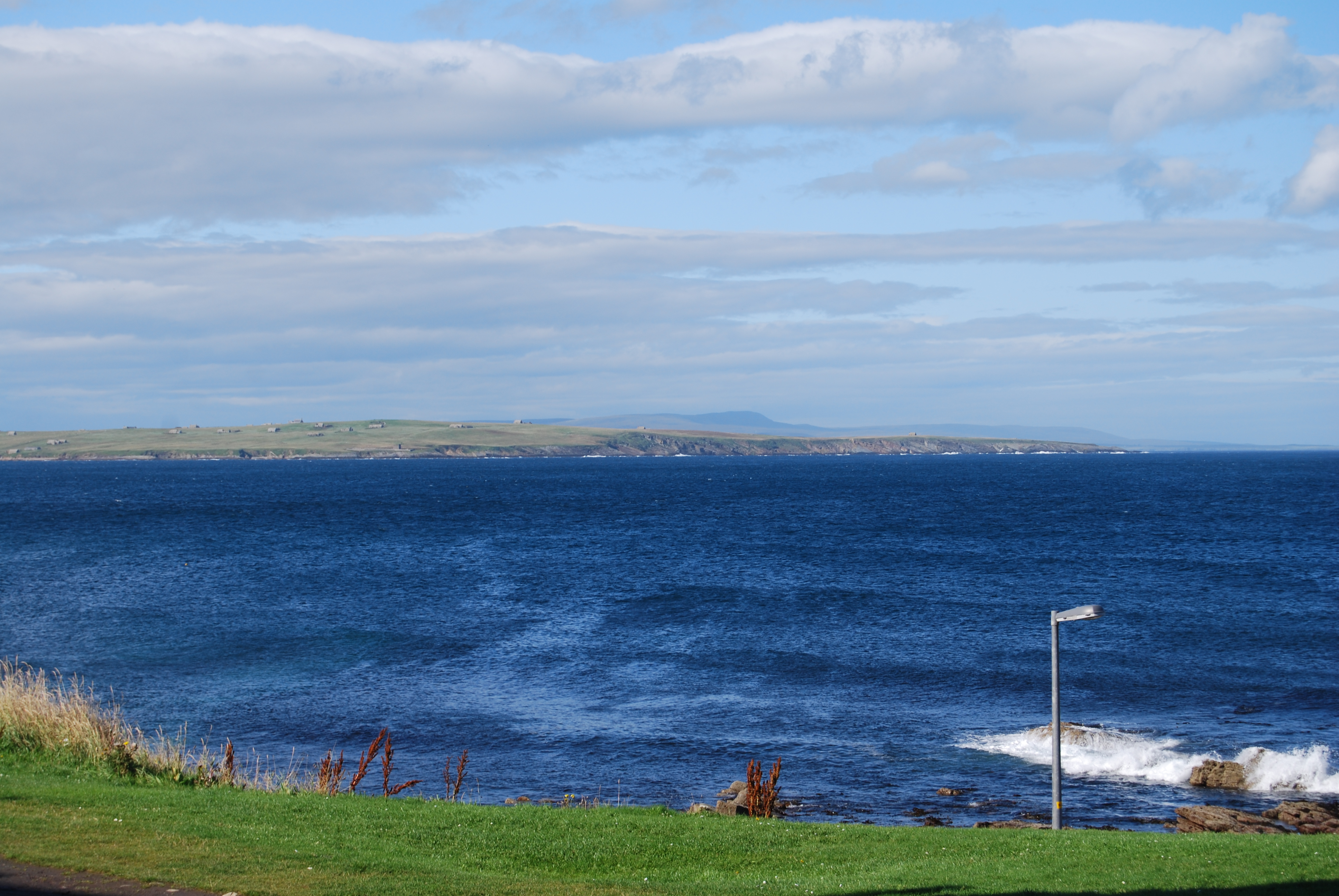 Louise.  Ellen MacArthur without  her crew and Amelia Earhart with only her plane.
I met people along the way, but always carried on alone.  I investigated places on the map and I took a 9 day journey of discovery about me.
I have plotted and woven stories and ideas to be fleshed out in a novel during NANOWRIMO this November. I have explored places that will not be woven but held important meaning or interesting facts for me.
And I have discovered that I am an amazing person too.   Don't underestimate me….  The power, determination and enthusiasm I can put to a project is just as staggering as the physicality of the honed athlete.
But of course it has not been about me.  The reason I have taken this journey is because Sexy Sporty Dad had begun a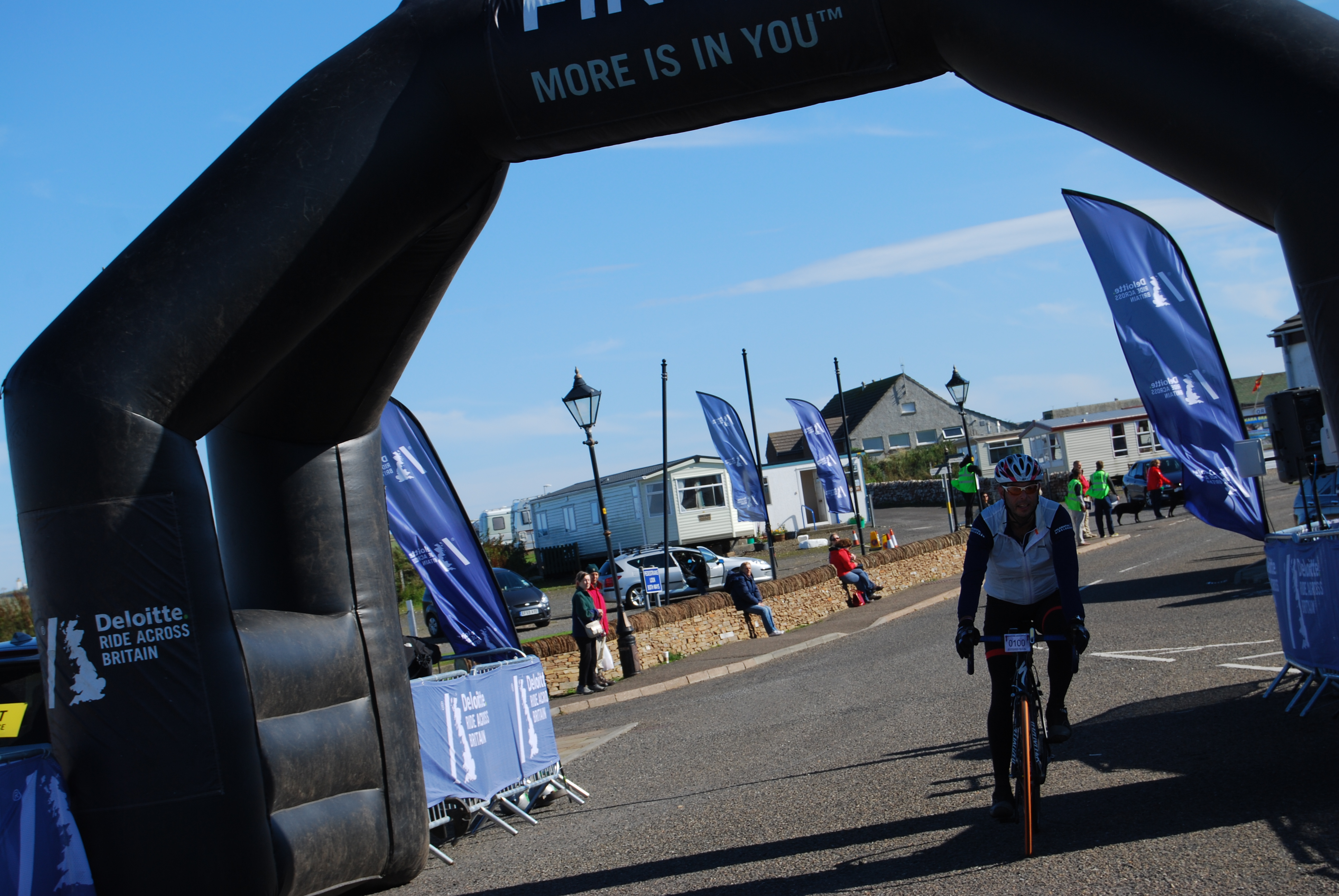 challenge some long months ago possibly even years when he took up regular Saturday morning cycling.  Was that where the idea came;  I know for a fact I did not plant the seed.
I arrived as 12 riders had come through and hoped he had not pushed himself too much and got there before me.  No text so I felt I was ok.   Camera in hand and smile upon my face I wheedled my way through the growing band of supporters to the barriers just over the finish line and waited.
800 odd riders still to come over the line, it is not easy to see who they are until they are close enough to read the number on their bikes.  They all wear similar lycra and Sexy Sporty Dad had not let me know which of the kit I had been washing over the week in my hand basins and baths he would choose to wear.
My wait was not a long one as he came in about 61st over the line, this of course would be amended when the results
of all came in and there may be others who left after him and will come in a little later.   A build-up of emotional pride as he came through the inflatable finish, the threatened rain must have drizzled at that point as I felt damp cheeks while I clicked the moment.
He has ridden 970 miles (he obviously took the short cut), 9 days up mountain and down dale, blazing sun and pouring rain and he has been true to the torture and camped every night when most nights there was a spare space in luxury just nearby.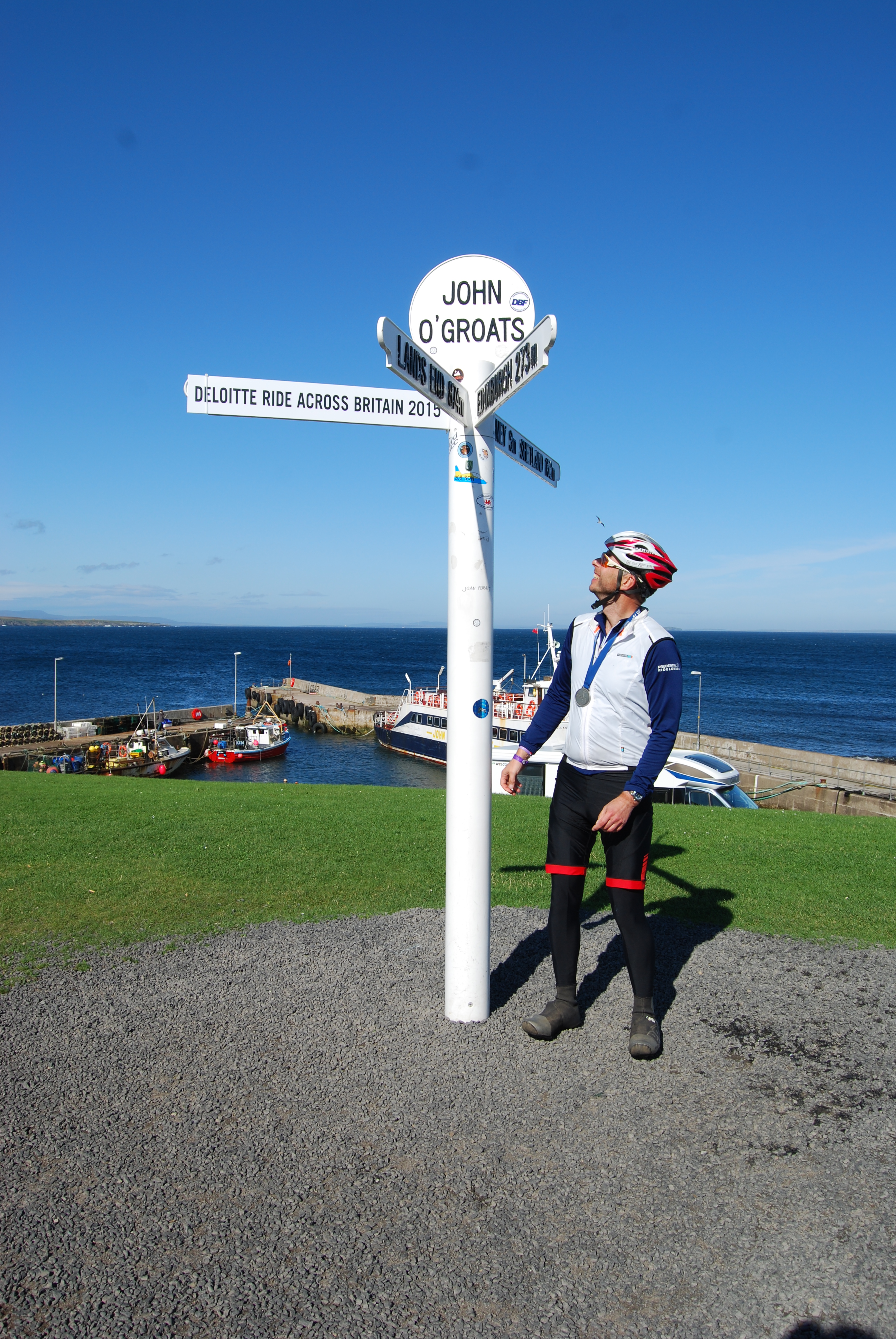 The physical effort has been phenomenal.   It was all a bit bewildering and surreal as he came through the finish line and received his medal.  The 'I done it' medal, that no doubt will decorate our house and conversations for months to come.
After a shower and cup of soup, he appeared nearly normal.  He was far better than I expected him to be and even the saddle sore did not prevent him sitting in the passenger seat to help me learn how to drive the car!  It was going to be emotional this journey back, I knew about the twists and turns and high cliff edges I was about to take him.  I also know from long experience he is a hopeless passenger, nervous, fiddling and finicky.
We eventually reached Inverness as the rain finally caught up with us and dusk began to settle.   We found the Cinnamon Restaurant not only open on a Sunday night, they were serving a buffet style eat as much as you could meal.
Back on the road again we travelled along the side of Loch Ness, I met a young deer waiting to cross the road, dusk had definitely fallen and darkness enveloped the car,.  As I came round the corner my lights reflected her eyes standing in all her glory. Thankfully she did not step out but there no chance of a photo; by the time I had swung the car out to overtake her, the moment was gone and so was she back into the trees.
Further down the Loch as I pressed on towards our bed for the night a creature ran across the road in front of us.  Was it a fox?   No we knew it was not a fox.  Was it an otter?  All the signs say beware of otters. Or was it a baby loch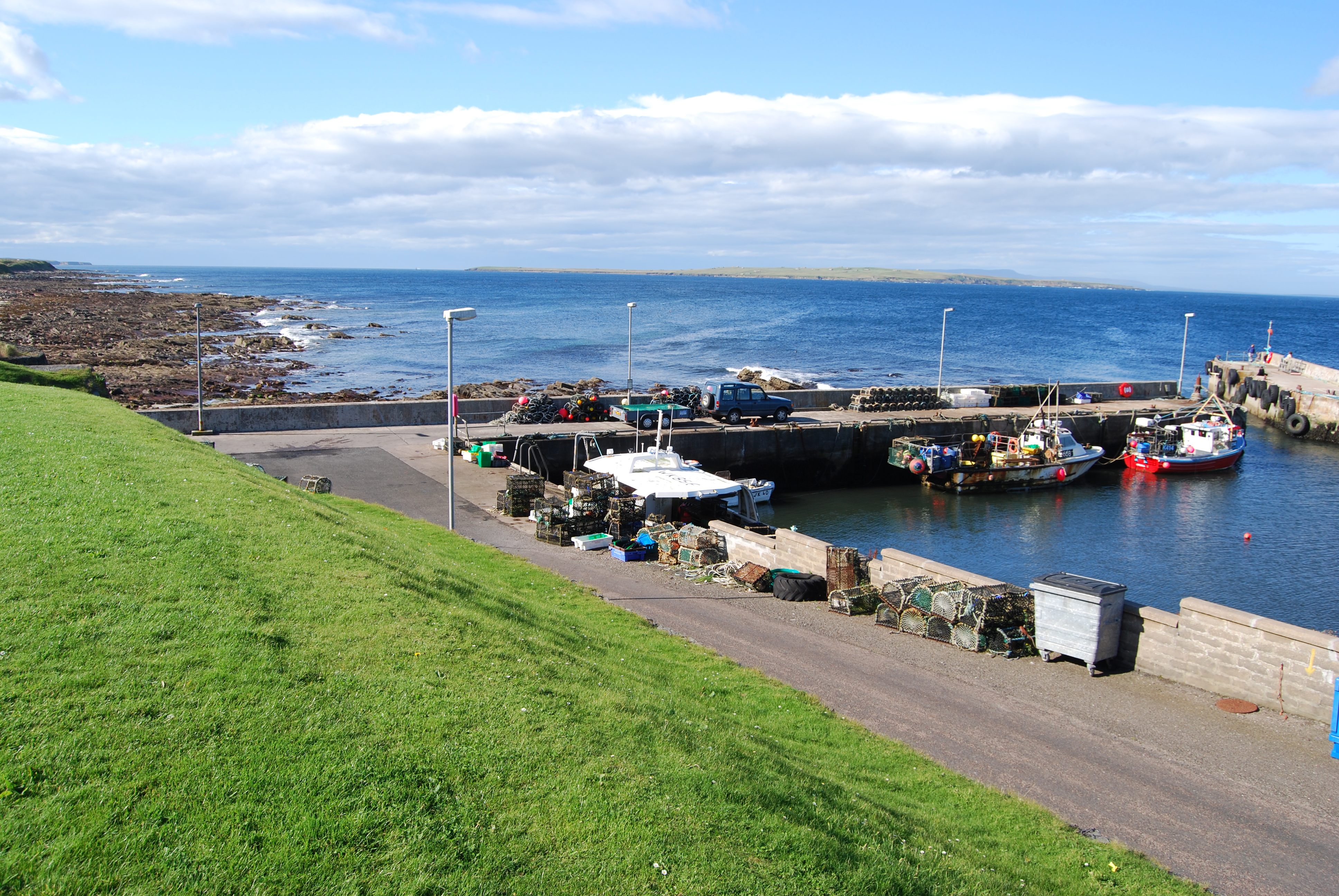 ness monster being called home by its mother after an evening's exploring.  Will we ever know?
The other man in my life at the moment my hero Matthew, a determined, challenged and highly fit young man , who does that remind you of, also made it,  Now he has reached the very top of Britain,  there are not many opportunities for him to carve out a life for himself.  He may have to find another challenge or learn to grow old gracefully running a tea shop for visitors, few and far between in the 1700s.  NANOWRIMO is not so far away only 6 weeks, you will have to read the book then to find out what he does.
The results came in once all the cyclists came over the line and of course every single one of them is a hero and successful but Sexy Sporty Dad's place today was an incredible 74th, out of all those guys and some incredible girls (don't even go there) who completed the Deloittes Ride across Britain 2015.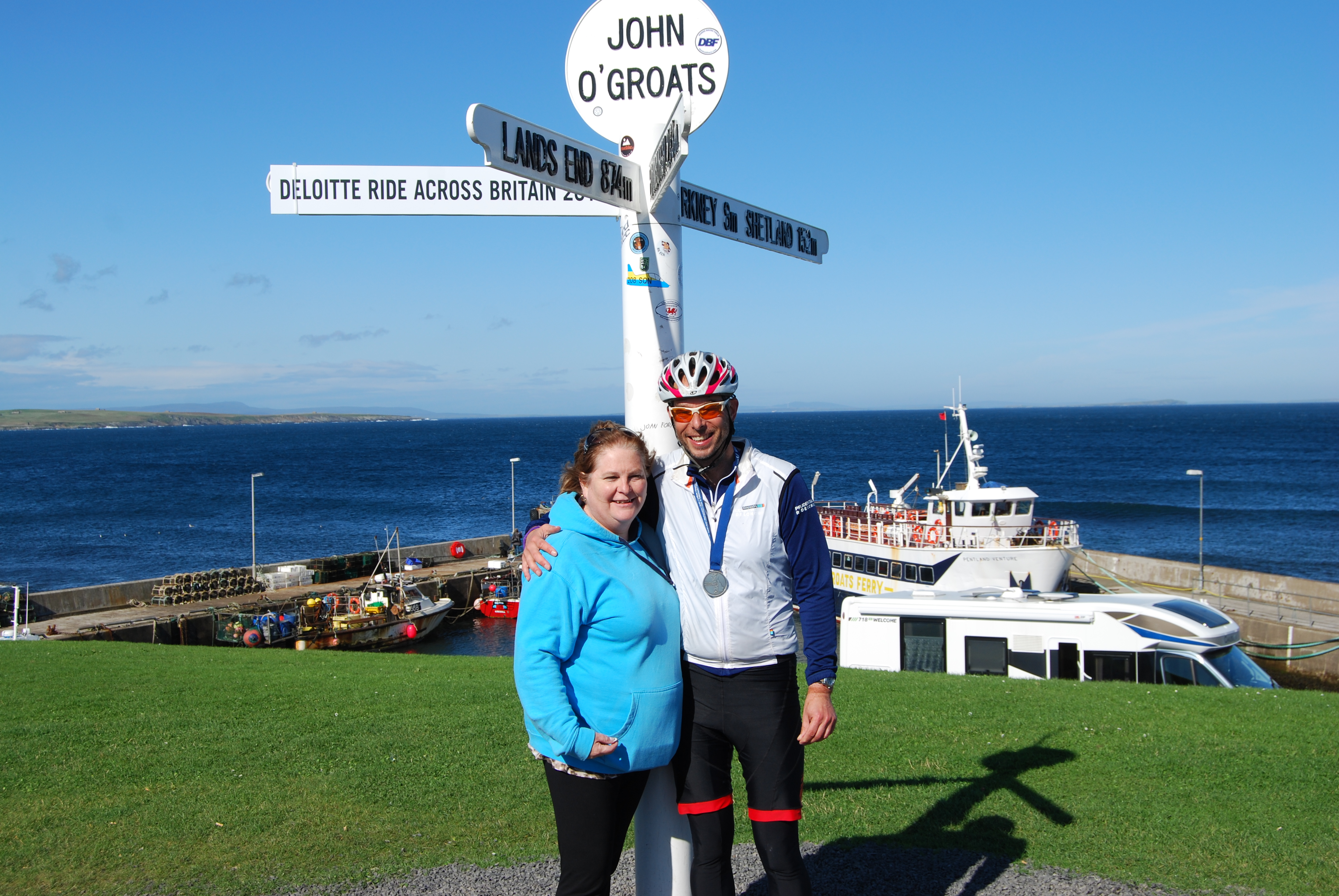 What have I learned today;   Behind every man reaching his goal  – there really is a supportive, determined, and caring wife.
Tiggy