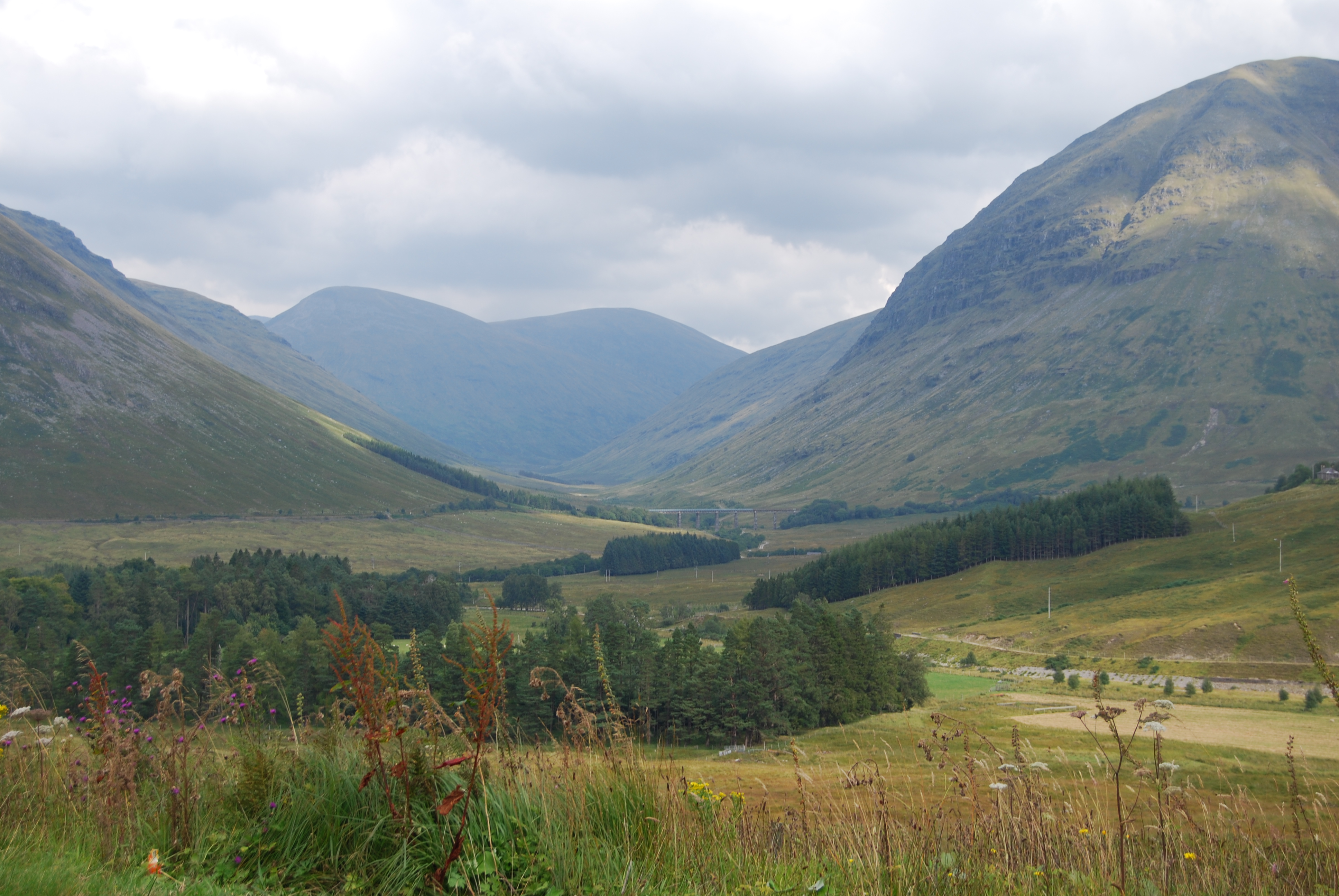 I have lost the sun.
Well that is an abrupt change of weather, overcast  and threatening but I did manage to stay dry and even keep a pathetic run up the hill along the bridge and back down the lane.  I watched as base camp woke up and got ready.  It occurred to me that if I was running back to the main road amid a group of cyclists I may not last, without being run over, knocking someone off or worse, collapsing in an ungainly puffing and spluttering heap as all these fnely tuned athletes pass me by.
I saw the first runners leave the camp and push up the hill to the main road and wished them off and I waited till the 
7.15 lot had passed by and then I headed back to my hot shower and good scotish breakfast.    Sexy Sporty Dad was either running slightly later or had snuck through the groups without me spotting him but I felt I had done my bit as the rain began to trickle down.
Yesterday the weather was very different with blazing sunshine and a real touch of summer.   I set off to pass through Stirling but saw a sign for Bannock Burn, yet another battle field I know nothing about.  I detoured. I had just missed a tour and next one was not for an hour – not sure why except that the experience was interactive…. I couldn't stay. But this as with many events took place long before my hero Matthew reached the Scottish borders.  It didn't stop me having a coffee though.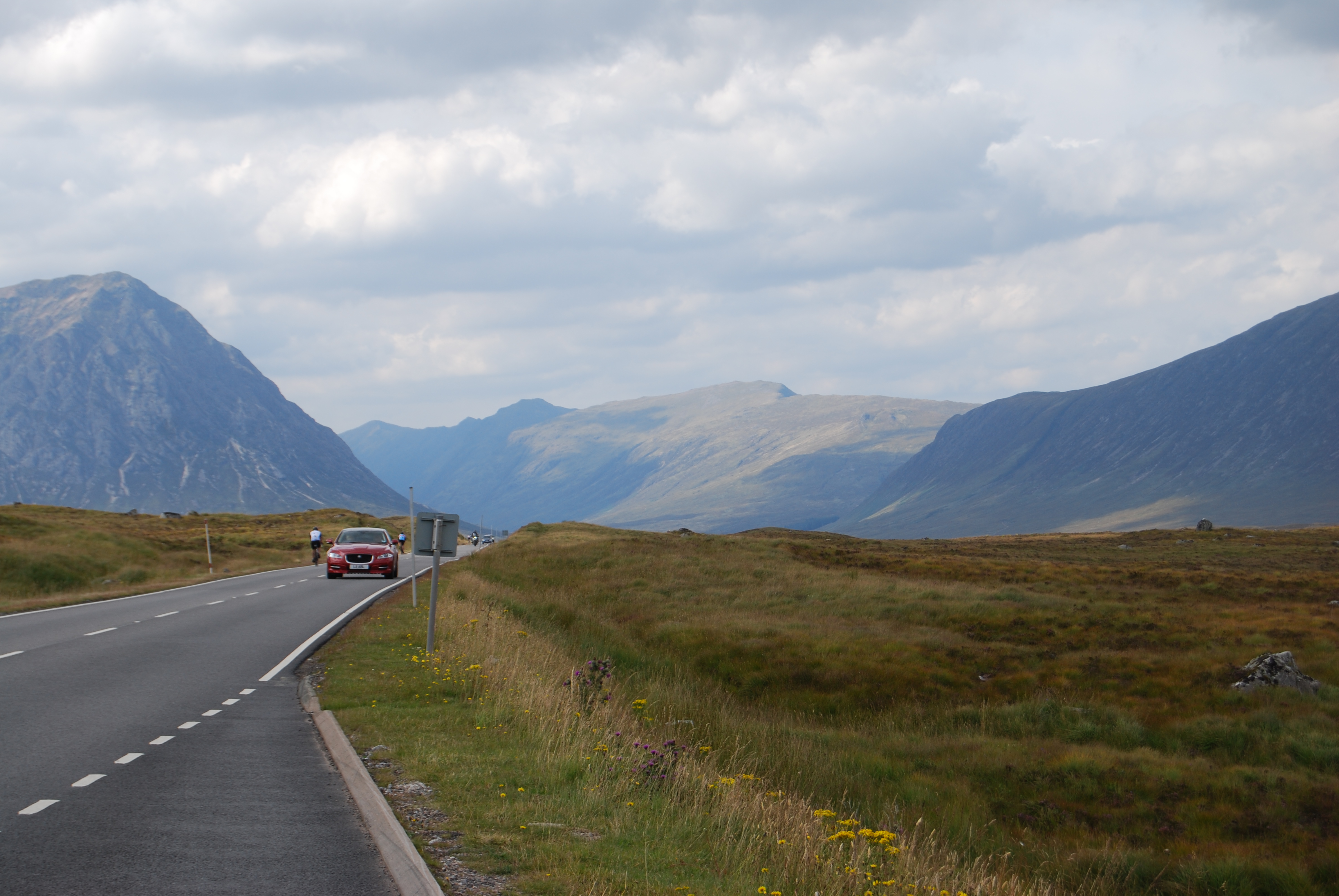 Then I headed over to Glen Coe.  I suspect that this is the hottest, sunniest day Scotland has ever seen and the views down the Glen and back up again were actually breathtaking.  But picture this on a cold and wet 1743 winters morning with the wind howling up the valley.  And a young lost Matthew with no bicyle, no car and not even a horse to ride running along frightened, not sure where he was or where he would end up, hungry and alone……
Next time I will not stop for a convenience stop at the same place as Pit Stop 3 for the cyclists.  I probably got there a few minutes after Sexy Sporty Dad left but as soon as I drove in I realised my mistake.  The car park was heaving with bikes, cyclists and tag on vehicles.  Not to be beaten I noticed a car beside me waiting to pull out,  fab I could pull forward let him out and then reverse into his space and turn before finding a stopping point further on.   As I pulled forward a car pulled right up behind blocking both me and the chap trying to get out in.  The driver leapt from the vehicle and ran; you make your own mind up where.  20 minutes later he had not returned and nature was calling me.
The blocked in car had managed to squeeze out just nudging  the blocker slightly, but he had a small van. I was blocked in every way.  A wee stop and a coffee later and the blocker had been replaced by one of the support vehicles but left me space to reverse slightly and move out.  My fear was cyclists have their own agenda.  One of the crew saw my dilemma and having the power to direct bikes he guided me out and back on my way.
Hoping to stop off at the house Skyfall  and naturally the thought that  James Bond might rush out and need my help solving his latest adventure.  I always did fancy myself as a Bond Girl.   Ah well if not then I could always see the bridge the Hogwarts Express travels across.  A little magic in my life would never go amiss especially cleaning up the home when Sexy Sporty Dad and I arrive back from our travels.
I missed both as I was too busy overtaking cyclists. Here is yet another place to be added to my ever lengthening, to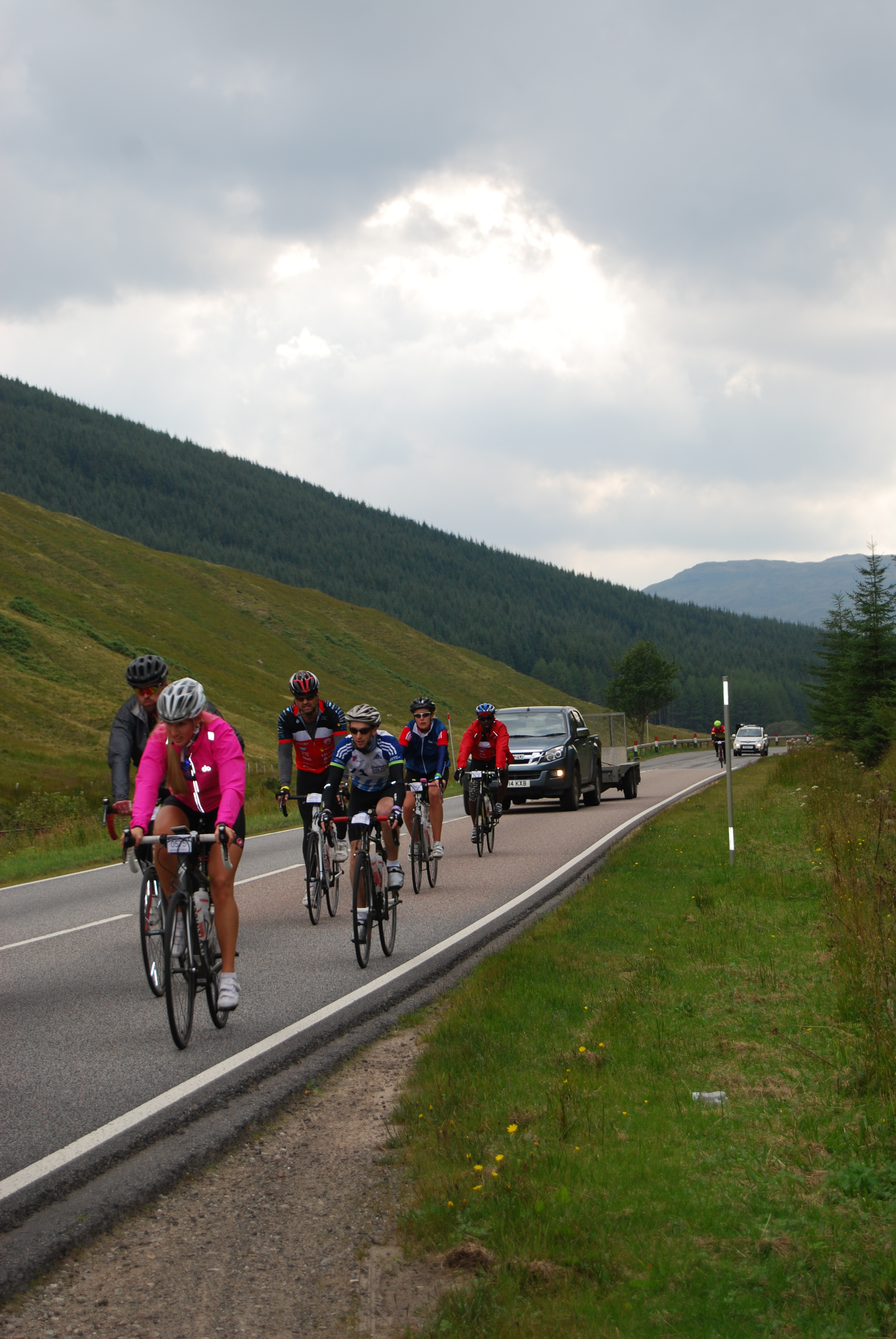 be revisited list.  What happened to the once in a lifetime trip?
The whole journey through Glen Coe and many miles before and after I spent on the wrong side of the road.  Probably not a feat I will admit to Middle Son while I spend a lot of brave journeys shouting at him to stay on our side of the road.   I did have a valid reason, it was the easiest way of going past groups of lycra clad wobbly bottoms and actually moving out of 2nd gear.  Perhaps not mention to Sexy Sporty Dad who would hate the thought of me driving on the right.
I arrived at Fort William still in sunshine, later than planned but with Ben Nevis towering above me.  The town and base camp lay at the foot of Ben Nevis and I could only glance up and up and up to the train on the top.  It was later at the camp I discovered that the train had other littler trains which turned out not even to look like trains or swans as someone pointed out, but to be the unmelted snows from previous years going up the North Face of the mountain.
How am I going to weave my newly named hero Matthew up the mountain and does he have a wife in tow at this stage? I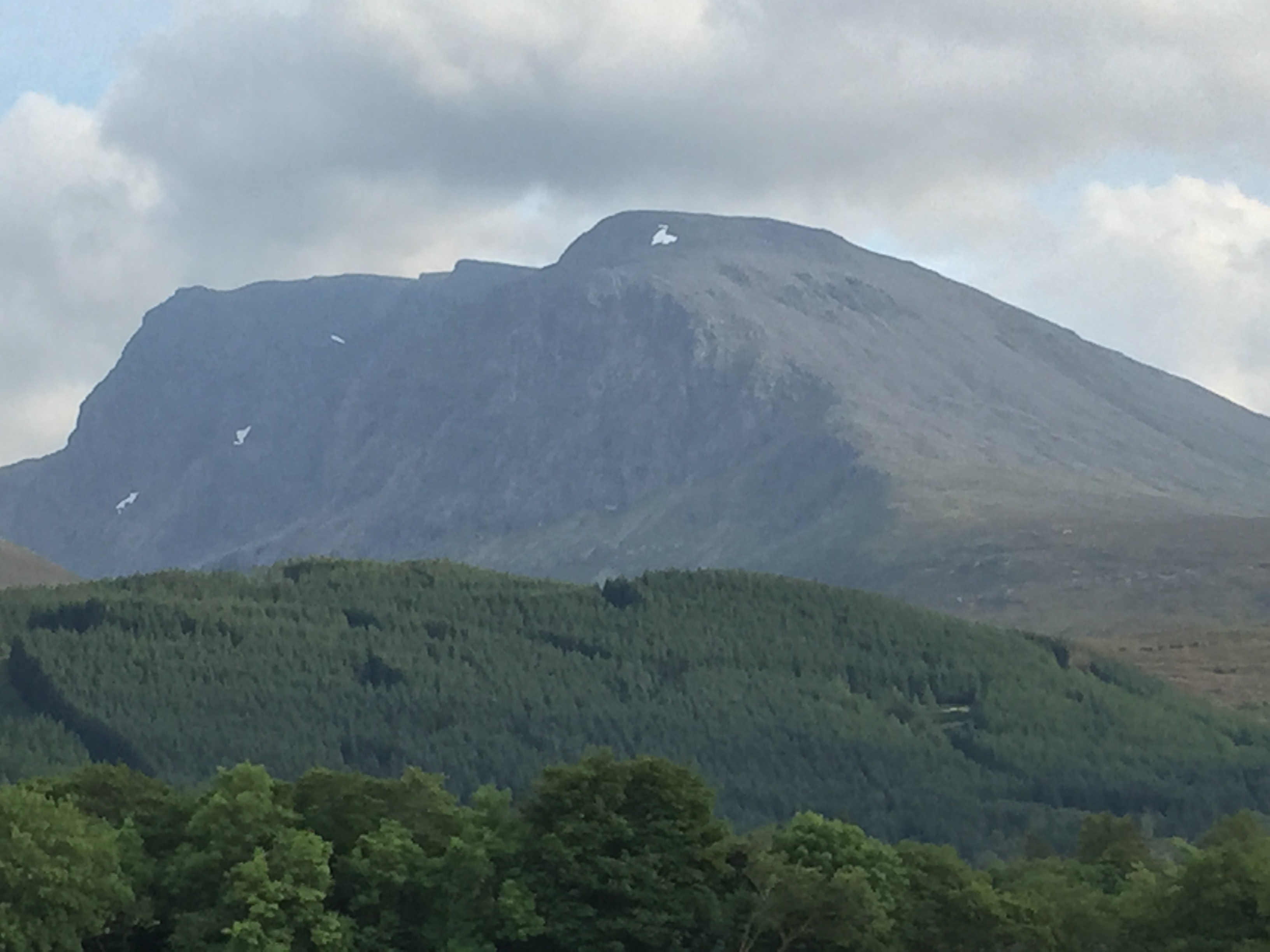 decided not to climb it even in the name of research but maybe he could be one of the first to get to the top with James Robertson in 1771 or possibly with the mining man John Williams in 1774?   We will find out.
So I didn't run this morning and I certainly couldn't be seen out in my running gear  in mid-afternoon but I could go for a casual walk, which is how I came to be walking the 20 minutes over to base camp from my lovely   Torlundy House.  The trip took far longer than planned as I stopped and looked at everything and photographed each new vista I was met with.
I managed to persuade Sexy Sporty Dad that although he had been on a bike all day, a stroll would do him good so he walked back with me to the B&B, before I had to drag him off the bed, and I thought I was tired,  to go for yet another excellent meal in Fort William at a place called Browns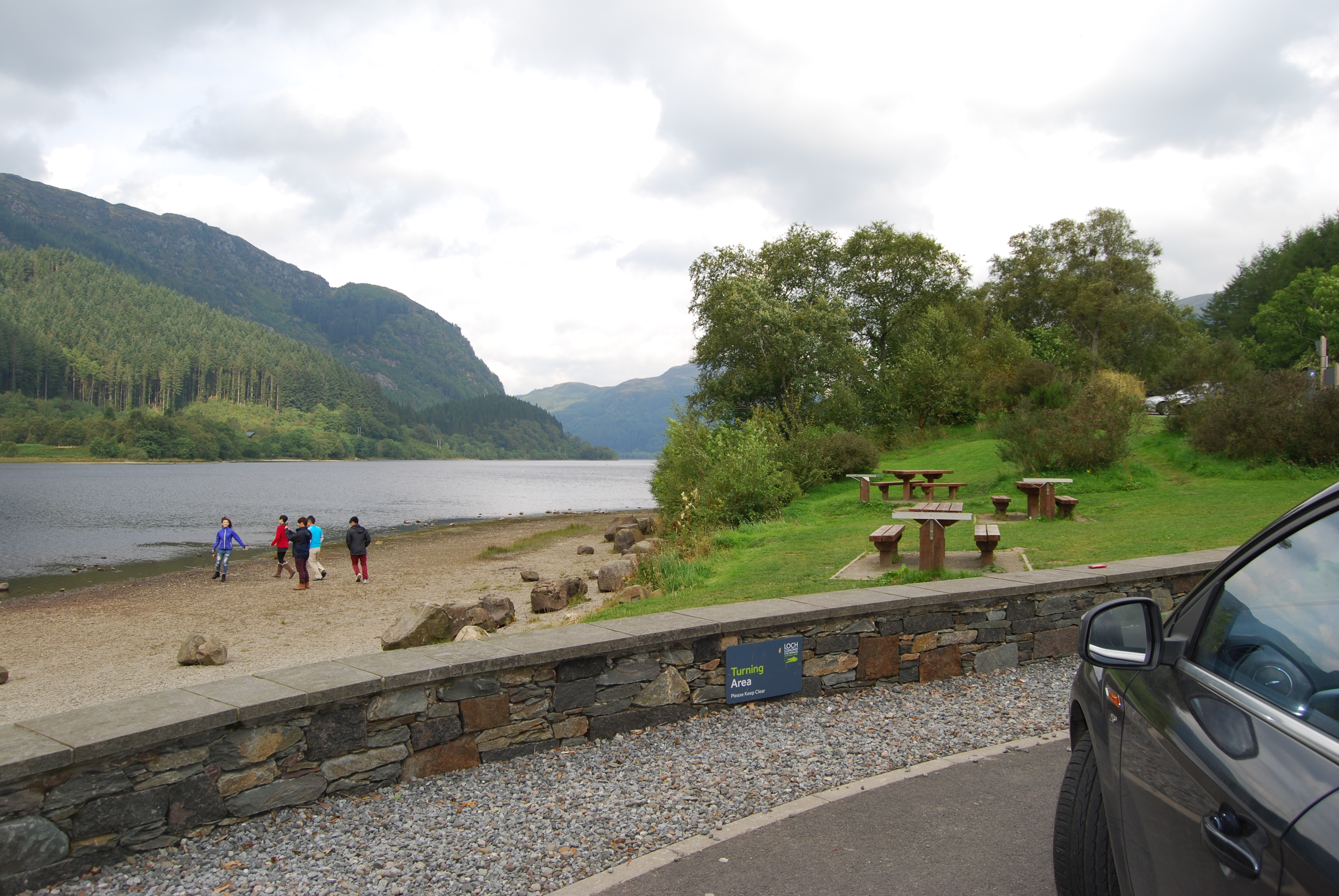 He is very tired, and quite snappy, but today was the most gruelling one of the whole 9 days.  It was 120 miles with three pit stops.  Maybe if he had taken it slower but then he would have been out for even longer, some were out for 12 hours!   He came in an incredible 49th.
We have decided to amend our plan slightly and rather than stay in John O'Groats on the last night we will come back to Fort William to break the journey the following day.  Unfortunately the B&B is fully booked but we will find somewhere.
Today I learnt that I am not very observant, having missed completely the two places I really wanted to see, and not very patient when I am on a timetable  – not a good traits for a writer.
Tiggy