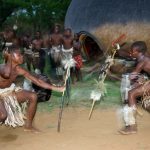 I do not actually own a copy of "The Zulu Principle" by Jim Slater although I have often quoted the phrase.  Maybe if writing does not work out for me, it might be money well invested if I buy the book.   His book is about share dealing, but the principle he refers to is;  his wife having read a lot of information in a short space of time became an expert on the subject of Zulus.
I have no plans to learn about the minutiae of South African warriors but these past few weeks I have seen the principle at work as I investigate various subjects on behalf of clients and even middle son.
I was asked to give a presentation at a meeting recently.   I was terrified, just what could I talk about.  How would I convince my audience I was an expert, when really I had just fallen into the job and lacked the requisite skills any self-respecting boss would have asked for?   Weeks of not sleeping, were followed by days of researching my own documentation; had I really put all this together; it sounded quite professional.  I finally had a lot of information to deliver a long and boring essay on 'how to market your company to the people who matter'. Thankfully for my listeners, I had a time restriction so cutting it down drastically was essential.  Is there an affinity with my writing here?  I found examples of adverts to back up my comments and produced a 'free' laminated tips sheet plastered with our logo, I was set.
'Targeting your Marketing' went well although my hand waving and exposition of examples was a deliberate ploy to cover the shaking.  The squeaky wobbly voice I heard in my ears seemed to come across as passion and knowledge. The questions afterwards, even though I talked almost to the end of my time, I knew the answers and others in the business actually concurred with my comments.    I was a Zulu Warrior.
Last week one of the girls I work with came to me with a problem our client had raised; regarding "reverse VAT".  If you happen to work for an international trading VAT registered company, you know exactly what happens.  We were both stymied by how to account for this.    By the time she left me to go and see the client, we were not only whizzes at its meaning, we also knew how to deal with it for his system.  I did not mention to her she too is a Zulu Warrior.
I have managed to bag myself a client who askes for a monthly blog on some aspect of business.  Although not the writing I want to do, it does mean I have to sit down and put pen to paper or rather nails to keyboard, and I can charge for it.    This month they asked for guidance for their members on GDPR.   I would never give any admission to being anything remotely approaching an expert in this expansive subject and I did not feel that the blog post should tell people what to do as each company is individual and 'no one size fits all'.  A lot of research was involved and the deeper I dug the more I realised just how big the subject was. Several re-writes later and the blog appeared on their website with a list of suggested areas for businesses to look at within their own organisation and hierarchy.  I am not sure there are any experts in this field, but I am most definitely just the apprentice.
When middle son and girlfriend approached us the other day to say they were planning to go to Australia for a year to work I was hit with the inevitable barrage of emotions; dread, fear, excitement, envy and joy that they are living their lives.   We have a ticket for them and that is where the adventure begins.   They will arrive in Adelaide in August.
They have plans but no knowledge how to get work, accommodation or travel across the country.   They also have no money!
I am emerging this weekend from downloads, emails, reviews about work visas, Australian tax rates not to mention job vacancies and youth hostels.   The pile of research material is mountainous, but I will work through it and by August they will have an itinerary and outline schedule and probably a pot of 'borrowed money' and I shall be as close to Zulu Warrior as it is possible to be.
How can I apply this 'Zulu Principle' to getting 'Memories' published? The research has already been done.  Maybe this was where I learnt to dig so deeply into my subject matter; I have lots of downloads on repressed memories and their re-emergence, not to mention family law and court procedure, although a bit of licence has been taken at this stage.
I have finished the latest edit, as I am sure there will be further ones. I tentatively handed over my edits to someone I work with to type up the corrections in the hope she will be able to add a few grammar or spelling changes as she goes through it.  A scary moment, even though a couple of beta readers have read very early versions.  This was like handing over my child to the nursery teacher, a deep emptiness suddenly as the draft I had been carrying round in my bag for weeks was no longer there.
Like a child I hope 'Memories' grows up to begin adventures of its own.